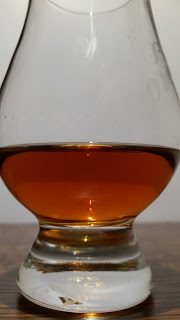 Michter's
Single Barrel Bourbon Whiskey
10 Years Old
47.2% ABV (94.4 proof)
Barrel No. 15J829
~$120 (sample provided)
Color: medium brown with a nectarine tint
Smell: lovely. Tons of rich caramel and vanilla sweetness. Chocolate fudge and dark red fruits are also there, along with some toasted oak and (strangely) some fresh herbs – dill and thyme.
Taste: also lovely. Harmonious blend of sweetness, barrel influence, and very interesting secondary notes. This reminds me a lot of the Four Roses Limited Edition Small Batch 2015 I tasted earlier this fall – really great balance. Soft and creamy on entry with honey and red fruit, and then there's a whisper of baking spices on the midpalate that is quickly joined by the characteristic herbaceousness from the nose. The medium-short finish reminds me of herbal tea with honey and a dusting of cinnamon.
Overall: It's an easy "A" for me, and right up there with the best bourbons I've tried this year. This isn't a "power" bourbon a la Booker's or George T. Stagg; it's a "finesse" bourbon like many Four Roses expressions. Just a perfect balance of flavors (sweet, herbal, bitter) with a creamy mouthfeel, and I think a true testament to expert barrel selection. It's a big price to pay for 10 year old bourbon, but this is special stuff. As with Pappy, the 20 year old remains on my bucket list (not to mention the special edition ryes!).