by Steve Coomes - May 12th, 2016
Were it not for Dick Newman, drinkers might not be tasting the same Michter's whiskeys they're enjoying today.
When Joe Magliocco acquired the Michter's trademark after the distillery closed in 1989, he consulted with Newman to source whiskey stocks he could bottle under the Schaefferstown, Pennsylvania, distillery's name. Newman was an industry legend who'd led brands like Old Granddad, Old Taylor and Old Crow during his time at National Distillers. Well-liked and connected, Newman knew where to find excess stocks of bourbon, rye and sour mash made in Kentucky.
"American whiskey still wasn't out of the downturn, and Kentucky was awash in some great bourbons and ryes," said Magliocco, president of Michter's, located now in Shively, Kentucky. Newman opened all the right doors because he "was a real gentleman and had a lot of friends in the industry. He made the connections."
Interestingly, Magliocco wasn't pursuing a Michter's remake. He and Newman sought to produce whiskeys that were stylistically unique. That sent them tasting American whiskeys from the 1970s and '80s, everything from "old dusties someone kept in a closet" to straight barrel thieving, he said. Some searches took them to conference rooms for group tastes, while other distillery samples were delivered to their offices.
Magliocco admitted there was little adventure to the hunt, no Indiana Jones discoveries of lost barrels from which light shot out when opened. Each taste only led him one step closer to how the Michter's new line would taste.
"We tasted a lot of great stuff before deciding what we wanted ours to be like," Magliocco said. Though he's bound by contract to not reveal which distilleries produced those whiskeys, he insisted that all of it was Kentucky made. "One-hundred percent of what was bottled since I've been involved came from here."
Yet Magliocco wanted Michter's to make its own, and the closest thing to doing that was "cooking in someone else's kitchen," he said. The phrase describes Michter's use of its own recipes and control of distillation (at an undisclosed distillery). Michter's unique mashbills and yeast were used, and those whiskeys were barreled at 103 proof, well below the industry's 125 proof maximum for bourbon.
That control increased further in 2007 when retired Brown-Forman distiller Willie Pratt became Michter's master distiller and oversaw its production. Pratt also conducted the chemistry work to ensure those whiskeys were duplicable when Michter's opened its own distillery in 2015.
"We (still) run the white dog through a gas chromatograph and spectrometer, which takes a chemical fingerprint," Magliocco said. "That tells us it's the white dog we made previously, that chemically it's the same as before."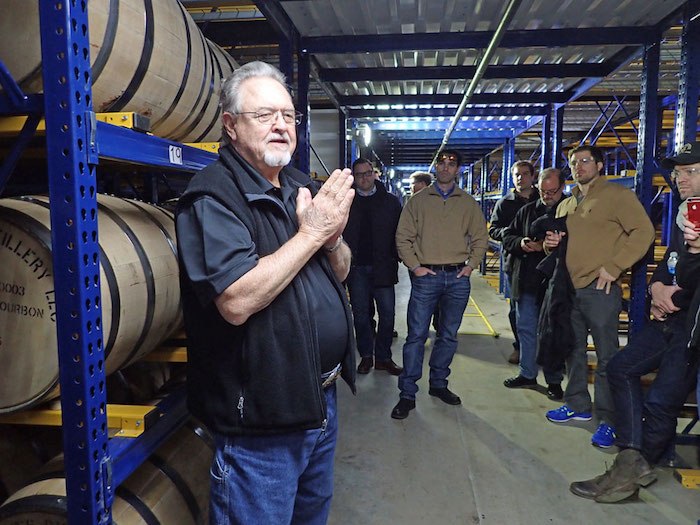 In 2016, Magliocco must decide whether boost production. All its whiskeys are on allocation, yet production at the Shively plant is pouring out just 600,000 original proof gallons annually—a third of what its stills can produce. To increase distillation would require the addition of new fermenters, plus workers for second and possibly third shifts. Magliocco is thankful today that Pratt advised him to build a distillery he thought larger than necessary.
"Back then Willie said that for a little bit more money, we could buy a bigger column and pot still and … not have to add more stills later," Magliocco said. "When we bought this building, we almost passed on it because I thought it was twice as big as we'd need. Now we're like, is this too small?"
He's also thankful to Newman for convincing him Kentucky was the place to build a Michter's distillery, not in Pennsylvania. Despite that state's rich distilling history, the heart of the American distilling industry lies in the Bluegrass State. A Kentucky headquarters also gave him access to talent like distiller Pam Heilmann, vice president and distillery manager Andrea Wilson, and CFO Brandon Breunig.
"I can find a general counsel with a search firm, but I don't know the search firm I call to hire a distiller like Pam," Magliocco said. Heilmann last ran the world's largest bourbon distillery, Beam's Booker's plant in Boston, Ky.
Magliocco added that as a former Price Waterhouse Coopers accountant charged with auditing Brown-Forman, it wasn't Bruenig's "first time hearing about evaporation. And as director of whiskey strategy at Dieago North America, you almost had to be in Kentucky to get someone with Andrea's experience."
In the Shively plant's bottling room sits a pair of stills from the Schaefferstown distillery. They're destined for Michter's tourist distillery in an historic downtown Louisville building that's presented endless construction delays. The original budget for restoration and construction was estimated between $3 million and $4 million, but insiders say it could cost twice that.
Though frustrated by the multiyear postponement of its opening, Magliocco remains steadfast on completing the project. Kentucky's where the action is in American spirits, and he wants to reach consumers there.
"What's exciting is some new laws in Kentucky were passed that will allow us to serve by the drink," he said. "That can affect our buildout plans, which is good for once with this building. The reinforcements are totally done, which means you can start to see a lot of positive movement very soon."
That's nice, but what about more of those amazing 20 year-old Michter's whiskeys?"
"If Willie feels right about it, we'll release some 20-year-old rye this year, and maybe another Celebration in the fourth quarter," he said. "Nothing new, nothing crazy, we're boring. Just the same old good stuff."