Mitcher's Distillery sits at the crossroads of many of the very positive trends that are driving the US distilled spirits market. The company is very much a part of the craft spirits movement and is also riding the revival of brown spirits, particularly US whiskey, within which it has led the development and popularity of rye whiskey, a once-forgotten style. More generally, it highlights how the US is reclaiming its distilling heritage.
For generations, Michter's was associated with the historic Shenk's Distillery, founded in 1753 in Pennsylvania. After a bankruptcy in 1989, the brand was resurrected when, in 1996, New York-based Chatham Imports, a privately held company, acquired Michter's abandoned trademarks. Joseph Magliocco, president of Chatham Imports, was familiar with the brands, having earlier sold Michter's in New York. The acquisition was largely unremarkable at the time. After all, the US
whiskey category was in the throes of a decade-long decline and the category's revival seemed highly unlikely at that juncture.
Magliocco, however, was well advised. Dick Newman, who was then acting as a consultant for Magliocco, had a long history in the whiskey trade, running Old Grand-Dad, Old Crow and Old Taylor for National Distillers, before becoming president and CEO of Austin Nichols. After filing for the abandoned Michter's trademark, they made their first major strategic decision: to resurrect Michter's in Kentucky, in the heart of the modern US whiskey industry, to ensure access to the best whiskey talent and resources available. "If you really want to be serious about the whiskey business, Kentucky is the place to be," Magliocco said.
Magliocco initially bought bulk Bourbon on the spot market. At that time Kentucky was awash with Bourbon, and sourcing it wasn't difficult. Magliocco says: "The market was very different to what it is right now, and especially when people heard that we wanted to focus on 10yo-plus whiskey they were very happy, because there was almost no market for older US whiskey. We also wanted to focus on rye, which was a totally dead style at that stage, so we had the pick of the litter. We went around and tasted it and picked the style of whiskey that we liked, even though we had nothing to do with making it. It was the style of whiskey we were trying to emulate and eventually produce ourselves."
After a period, the group began producing its own recipe through another distiller on a contract basis. Eventually the group decided the time was right to invest in production assets. Today Michter's has two locations in Kentucky: a 67,000sq ft distillery and bottling facility in the Shively section of Louisville and, currently under renovation, it is now transforming the distinctive Fort Nelson building into a distilling and tourism centre along Louisville's famed 'Whiskey Row'. Magliocco says: "We were like a chef that couldn't afford our own kitchen and were cooking in somebody else's. That changed last year when our distillery in Louisville went operational. We are now very much in control of our destiny."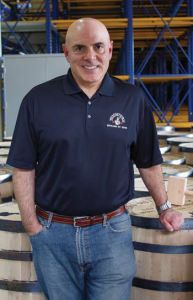 Joseph Magliocco, president, Chatham Imports: 'The enormous growth in demand is very surprising'
That is important because the demand and supply equation has changed significantly with the explosive growth of Bourbon. Those suppliers without production capabilities are likely to find themselves out of luck. Even those suppliers with production capabilities find themselves struggling to match demand. Last November, Michter's issued a release stating that the company's US*1 line of whiskies was on allocation and had run out of stock of Michter's US*1 Sour Mash Whiskey for the remainder of 2015 and that no further cases would be shipped. It said the shortfall was temporary and that it planned to have US*1 Sour Mash in supply for 2016. While companies do periodically make claims of being on allocation or shortages for marketing purposes, Magliocco says that isn't the case and puts it simply: "We just don't have enough whiskey."
Asked whether his decision to invest in US whiskey at the depth of the slump in the mid-1990s was particularly prescient, Magliocco is typically modest. "The enormous growth in demand is very surprising. I'm sure there are people smarter than me who anticipated it, but I didn't, and I'm sure most people didn't anticipate the growth of the Kentucky industry and the way it has been transformed.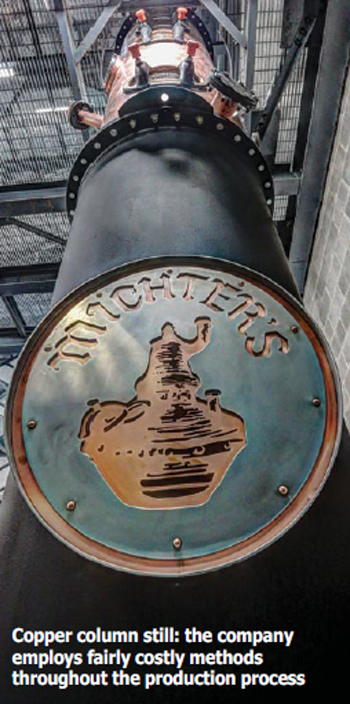 He also thinks the trend is sustainable. "As a generality we see the people that are interested in it [rye and US whiskies] are in their late 20s and 30s. It is a promising age demographic and that, in itself, bodes well for the category's future."
If the move into aged Bourbon seemed a gamble, the decision to focus on rye was a total longshot. Rye whiskey was a virtually defunct style by the '90s. Magliocco says: "We were fortunate that there was a small core of people that seemed to like what Michter's came back to the market with – older whiskies and rye. A lot of what has brought rye back in the US are the on-premise mixologists. They saw that rye made great cocktails and there were also some speciality retailers that were willing to give boutique whiskies a chance when nobody wanted them. Those two groups really spearheaded, in this country at least, the growth of US whiskey. We are now riding that wave."
He adds: "The two markets where the rye really restarted were New York and California. That was about 15 years ago. Now, more people know about it and more suppliers in the industry are offering really good ryes and it's more available. There are a lot more people knowing about it and enjoying it all over the country. I don't see it as regional at this point."
Magliocco also believes that rye could have some international potential. "There are certain markets where we have seen Scotch drinkers actually gravitating towards rye, because they appreciate that it is a little bit drier than, and not as sweet as, Bourbon."
Michter's is also tapping into yet another prevailing trend and that is premiumisation. Consumers are trading up within the US whiskey category and premium-and-above qualities are outpacing the overall market; the higher the quality, the faster the rate of growth. Michter's is positioned at the top end of the market. "Our least expensive whiskey is $48.00 for 75cl. Our goal is to 'make the best US whiskey regardless of cost' and that is our mission statement."
One criticism of the burgeoning craft movement, particularly from the established players, is that the quality is often uneven or sometimes substandard. Magliocco says: "In general the level of quality is pretty good. However, it is not uniformly good, and when someone puts out a product that is not a quality product it reflects badly on everyone. That potentially can hurt the category and that it is an issue."
Michter's certainly can't be accused of taking shortcuts. The company employs fairly costly methods throughout its production process, such as entering its rye and Bourbon into barrels at 103 proof. The lower 103-proof level allows for the concentrated sugars in the toasted and charred wood to dissolve more readily into the distillate as it cycles in and out of the barrel.
Even though the lower entry proof yields fewer bottles per barrel, the outcome is a richer flavour. They also heat cycle barrels during their ageing. The more often whiskey expands and contracts (cycles) soaking in and then out of the wood of the barrel, the more flavour it absorbs from the wood.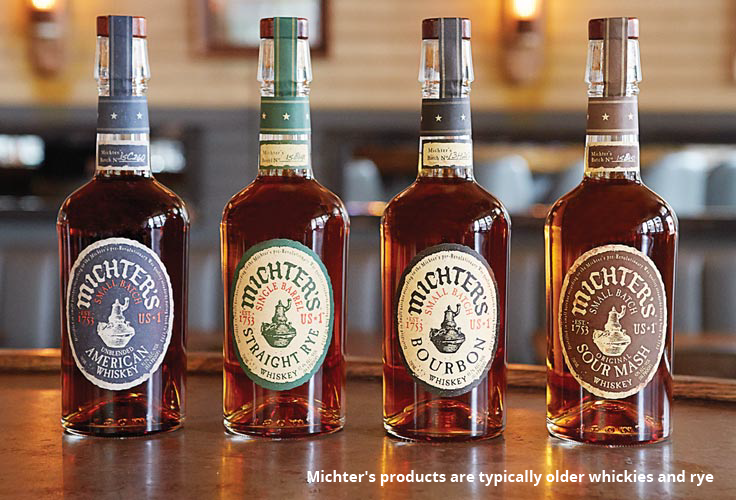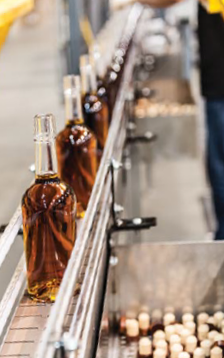 Heat cycling is an uncommon practice used to raise the temperatures in the barrel warehouses to induce extra cycles within a given year. This practice is extremely costly, because it significantly increases the evaporation during ageing, but in most cases it enhances the quality of the matured whiskey. It also chill filters its whiskies instead of using carbon filtration that can strip out flavour and aroma.
While the average consumer may not appreciate this attention to detail, Magliocco says that today's whiskey consumers are better informed than ever. "People are looking for high quality, particularly when you are charging a certain amount. The growth of the internet and the amazing amount of information available has really raised the sophistication level for everyone. Consumers really seem to appreciate the differences."
The whole process is guided by master distiller Willie Pratt. Prior to joining Michter's, Pratt spent his career at Brown-Forman where he co-chaired a special committee formed to study cooperage – the art of barrel construction – and to identify optimal distillation and ageing conditions for, among other things, whiskey taste, aroma, colour and yield. Michter's has put together a formidable production team. Pratt was joined in 2013 by Pam Heilmann as distiller and VP production. Heilmann had 15 years of experience garnered at Beam Suntory and, most recently, was distillery manager at the Booker Noe Distillery in Boston, Kentucky.
Andrea Wilson was appointed general manager for Michter's earlier this year and was previously director of operations for Diageo North America; she is also the first woman to serve as chair for the Kentucky Distillers Association. Magliocco says: "We are not a big company, but we really have tried to put together a team that is extremely strong on quality."
Michter's is beginning to look further afield and is now sold in about 20 export markets. With supply limited, the company is taking a cautious approach. Magliocco says: "The development of Michter's in export markets has been a nice surprise. We have opened up several countries that we feel are really strategic. That has to be our focus because, with limited supply, we have to allocate in the way that we do. There are a whole list of countries with good importers and we say to them: 'Thank you, we will get back to you in the future when we have more product'. Even so, it takes a lot more time and effort to make sure you educate consumers the right way and you build and position your brand the right way. We have had some nice early starts in some of these countries. That's all we can do at this stage."