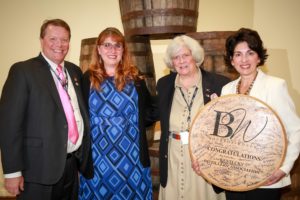 LOUISVILLE, Ky. — Andrea Wilson, Executive Vice President & General Manager of Michter's Distillery, received the fourth annual "Lois Mateus Networking Award" Friday night, honoring her years of innovative and strategic leadership in Kentucky's Bourbon industry.
Wilson was the first woman to ever serve as Chair of the KDA Board of Directors in 2009. She has been a member of the Board since 2005 and continues today as one of the KDA's longest-serving Directors.
"Andrea is the epitome of integrity and professionalism, and she continues to break down barriers for Bourbon women everywhere," KDA President Eric Gregory said. "We can always count on her honest and sage advice and are extremely thankful for her leadership."
Wilson accepted the award Friday night at the opening dinner of the Bourbon Women Association's annual Sip-osium, which was held at the Frazier History Museum in downtown Louisville along its famed Whiskey Row.
"I and my family were so honored to be acknowledged for doing something that I greatly enjoy," Wilson said. "I pride myself on having worked to take on challenges, build credibility, seek out relationships and to partner with other amazing individuals across the Commonwealth to continue to grow Kentucky Bourbon.
"Organizations like Bourbon Women are a testament to the growth of Kentucky Bourbon and provide a great platform for amazing, intelligent, confident, sophisticated women to network and build relationships around such an authentic spirit."
Gregory, Bourbon Women President Susan Reigler and Bourbon Women Founder Peggy Noe Stevens presented Wilson with a silver Bourbon barrel award cup to commemorate her career as a leader in scientific advancement, innovation, quality control and global strategy.
"Andrea's leadership in Kentucky's Bourbon industry has helped open doors for many, many more women," Reigler said. "She has been unfailingly generous with her time whenever we've asked Michter's to participate in any of our events. It is always such a pleasure to work with her."
As Executive Vice President and General Manager of Michter's, Wilson has played an integral role in steering the company to global success with its portfolio of Kentucky Bourbon, American Whiskeys and Limited Releases.
With an added title of Master of Maturation, Wilson stays hands-on in the production process, working with Master Distiller Pam Heilmann to manage and cultivate innovative practices and improvements in the aging process.
Prior to joining Michter's, Wilson spent more than 10 years with Diageo in various whiskey-related positions including Director of Distillation and Maturation for North America, where she oversaw both the United States and Canadian distillation and maturation programs.
She also served as Diageo's Director of Whiskey Strategy for its North American operations.
The award is named for Lois Mateus, retired Senior Vice President of Brown-Forman, Inc., and the first woman ever to serve on the KDA Board. Her two-year term in 1992 paved the way for other women in high-ranking roles throughout Kentucky's signature Bourbon industry.
The award is given annually by Bourbon Women in conjunction with the KDA based on the following criteria for a woman who has:
Excelled in her profession by continuously building key relationships to contribute to the growth in her respective industry
Broken through barriers to grow her career
Contributed to the community through service and philanthropy
Increased exposure for other women to grow their networking and career opportunities
Developed creative partnerships and strategic alliances to further the growth of her respective industry
Become a role model for female professionalism
Bourbon Women is a premier organization for women who are passionate about exploring Bourbon and the culture that surrounds it. Designed exclusively for educational, networking and charitable purposes, Bourbon Women's fast-growing membership includes hundreds of women from more than 30 states and continues to form new branches across the country.
Since its inception, the Bourbon Women Association has inspired books on women in the industry, created partnerships with key industry associations, held the first Bourbon weekend for women and continue to raise money for philanthropies through their unique, high-quality events.
Bourbon Women from around the country come together once a year for their annual Bourbon Women Sip-Osium. This year's event was held in Louisville and featured distillery tours,
seminars by leading female professionals in the Bourbon industry, and networking receptions featuring Kentucky Bourbon, hand-crafted cocktails and delicious local fare.
Learn more at www.Bourbonwomen.org.
Founded in 1880, the KDA is the state's voice for Bourbon and spirits issues. Its diverse membership produces 90 percent of the world's Bourbon, from legendary, global brands to emerging micro distilleries that are building the next generation of the timeless craft.
Kentucky Bourbon is one of the Commonwealth's most historic and treasured industries, a booming $8.5 billion economic engine that generates as many as 17,500 jobs with an annual payroll topping $800 million, and pours $825 million into tax coffers each year.
The KDA this year unveiled a University of Louisville study that shows the industry is in the middle of a $1.2 billion building boom. There are now 52 distilleries in the Commonwealth and 6.8 million barrels of aging Bourbon – both modern records.
Visit www.kyBourbon.com and www.kyBourbontrail.com to learn more.
"This is truly an exciting time for Kentucky Bourbon, and it's important to recognize the outstanding leaders like Andrea who have the vision and perseverance to get us here," KDA President Gregory said.
"Andrea's strength and leadership has bolstered the integrity and authenticity of our signature industry. On behalf of the KDA and our 34 members, we congratulate our dear friend and look forward to her respected counsel and valuable guidance for many years to come."
-30-
For more information, contact Susan Reigler with Bourbon Women at (502) 445-5122 or Eric Gregory with Kentucky Distillers' Association at (502) 875-9351.
KENTUCKY BOURBON TRAIL®, KENTUCKY BOURBON TRAIL CRAFT TOUR®, KENTUCKY
BOURBON AFFAIR™ and BOURBON TRAIL™ are trademarks/service marks of the Kentucky Distillers' Association. Please drink responsibly.