Last October, I wrote a brief history of the Michter's distillery and brand, noting that the current Michter's Distillery in Kentucky does not trace its roots to 1753, as its label declares. [In case you still don't know, Michter's was an historic distillery and brand in Schaefferstown, PA but it went bankrupt in 1990. It has been revived by NYC based Chatham Imports and is operated by Michter's Distillery, LLC in Shively, Louisville, KY].
Everything I knew about Michter's derived from the work done by Sam Komlenic, Ethan Smith, John and Linda Lipman, Chuck Cowdery, and Lloyd Christmas. I am not a journalist; I am a consumer with a modest bourbon budget, a laptop, and the First Amendment. I criticized the revival of Michter's, which has operated as a non-distiller producer since the late 1990s, and their marketing efforts, mostly out of frustration that other consumers and bourbon reviewers still neglect the history of the original distillery in Lebanon County, Pennsylvania. That site remains an abandoned "rat's nest of liability" despite the fact that it does trace its roots to 1753.
To my surprise, after I published the October blog post, Chatham Imports/Michter's Distillery president Joe Magliocco called me to respectively dispute some of my assertions and invited me to take a tour of the new Michter's distillery should my travels bring me to Louisville.
I was in Louisville last month for Easter, and Joe kept his word by assembling the impressive Michter's team for a personal tour of the new facility. Michter's will continue to "cook in another distillery's kitchen" for some time, but they have boldly entered the production phase. Their warehouses are now full of bourbon, rye, and sour mash whiskey produced by distiller Pam Heilmann (Jim Beam veteran) and master distiller Willie Pratt (Brown-Forman veteran). General manager Andrea Wilson was on hand as well.
The facility sits in the heart of the Shively suburb, where old Stitzel-Weller, Brown-Forman, and Seagram's warehouses dominate the skyline. Michter's is 66,000 square feet, not massive, but certainly not small. It is modern, clean, super OSHA compliant, and boasts metal racks, dramatically reducing the dangers of structural failure or fire. Behind the facility are several grain silos, custom grain grinders, and a large mash cooker.
As you enter the facility, you pass by 100 or so barrels I presume contain whiskey made by other distilleries. I read that Michter's has whiskey aging off-site, but the supply of sourced whiskey on-site appeared to be very small. In the bottling room, a handful of employees work diligently filling the brand's distinctive bottles (inspired by Civil War era relics) with bourbon. Willie Pratt's experimental still, expertly fashioned to look like the original Michter's pot still logo, sits on a platform behind the bottling line. (There's even a mini version of the pot still inside the tail box).
Beyond the bottling line, six stainless steel 18,210 gallon fermenters are full of bubbling mash. A 46-foot tall, copper Vendome column still and doubler combination are within view of the fermentation room. The size of the column still makes it difficult to photograph, but check out the video below for an idea of its beauty.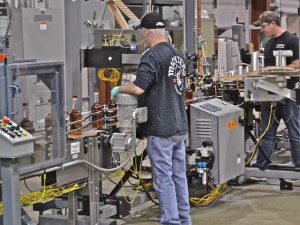 Before exiting the facility, one must traverse the warehouse, pictured below. We met an employee with an ink roller and stencil who was busy marking oak barrels, which are 53 gallon Independent Stave and Kelvin Cooperage casks. Joe reiterated that his barrels are seasoned for 18 months, much longer than standard, and they are toasted prior to being charred. Michter's barrels their distillate at 103 proof, significantly lower than the industry standard, as they believe less water at barreling means more flavor in your bottle. "Cost be damned" has been their mantra, and they walk the walk from the non-GMO grain to the barrels. The place is truly top-notch.
The second best part of the afternoon came when Joe let me check out the "original" Michter's alembic pot stills and cypress fermenters he recently purchased back from Tom's Foolery Distillery in Ohio (see the hair net photo above). The stills were produced by Vendome in 1976 and operated at the Pennsylvania Michter's where visitors could watch a run and buy whiskey in the jug shop. Joe Magliocco will move the stills and fermenters to a downtown Michter's location on Main Street in Louisville when it finally opens. The presence of the old Michter's equipment at the new Michter's distillery feels right.
Anytime you visit a place and meet its people, you get a sense for whether they are doing things well or poorly. It was clear that everyone at the new Michter's is proud of the work being done there. The employees were hard at work and the management is "all in." Schaefferstown may never come back, but Michter's is here to stay.