Drinking a Marzen in summer is a slightly discombobulating experience, but the vicissitudes of season are irrelevant to beer drinkers down under.
The new range of beers by South Australia's Prancing Pony includes the Rusty Panzer, a traditional German Marzen or March beer. These stronger, slightly spicy amber ales evolved in the days before refrigeration. In Bavaria, March was the last month of the season where it was still cool enough to brew. High temperatures play havoc with fermentation — something that held back the convicts in their early attempts here.
You can't be denied beer when you need it most, so the brewers would knock up the stronger beer, add some extra hops for their preservative effect and store them in cool cellars or ice caves and consume them across the northern summer. Over the years a tradition evolved of uncorking the best Marzens in September to mark Oktoberfest.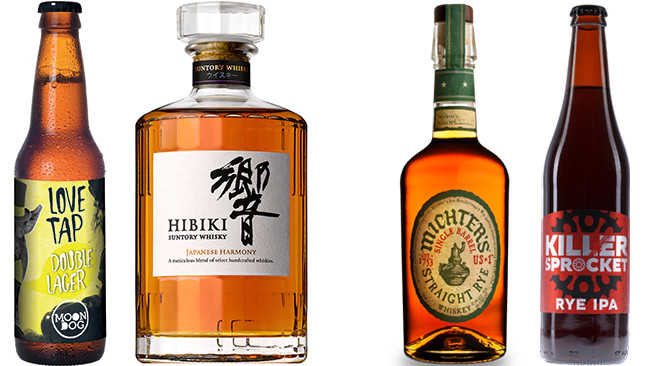 The Rusty Panzer is one of the best beers I have had for a long time and just happened to find itself accompanied by a good Woodford Reserve bourbon that had been biding its time in the drinks cabinet (it was one of those days). Which leads us to the latest hipster trend. Back in the old days, it wasn't unusual to get a whisky chaser with your beer. You banged it back and then sipped your beer or you dropped it in and it became a "depth charge". Today kids with ironic tattoos and a taste for mid-century Americana are eating fried chicken and drinking what they call "boilermakers" — beer with whiskies.
Beer and whisky have always had a tight relationship. After all, they are basically the same thing: malted barley or grains, water and yeast. Beer is not so keen in fermenting out all the sugars and adds hops for balance.
The other day I ran through a few of the matchings on offer at the Archie Rose Distilling Co bar in inner Sydney. The bar staff at Archie Rose have matched a series of whiskies and craft beers so you don't have to, but there's nothing stopping you from coming up with your own combinations.
Archie's pairing of a Moon Dog Love Tap Lager with a Hibiki Japanese Harmony caught the eye with its promise "enchanting cherry and earthy characteristics". But Japanese whisky is apparently in short supply and this cart had no horse. They were also out of the Red Duck Kolsch, which was meant to be paired with a 14-year-old Adelphi Fascadale, so I tried that with the Double Tap. Didn't work. Sorry, but the lager is not solid enough to pair with the strong heather honey flavours of the whisky.
A better time was had when a Killer Sprocket Rye IPA came to the table with a Michter's US #1 Straight Rye. Here we had a pairing worth swooning over. One brought the lingering bitterness, the other the bite and both met with a malty middle note. Yep.
A Murray's pilsener and an Old Pulteney from Scotland's most northern distiller was interesting but let down by the beer, which is usually in better shape than the one served here.
A word before you try matching. Back in the day, having a beer chaser generally meant knocking back the spirit in one go. The beer never came before the whisky, and that's fair enough; the whisky's warmth and flavours linger as you drink the beer. You do not, however, belt back a good whisky like it's a spoonful of cough syrup. You sip it. But you knew that. And you put your beer in a glass so you can get the full taste experience. But you knew that, too.