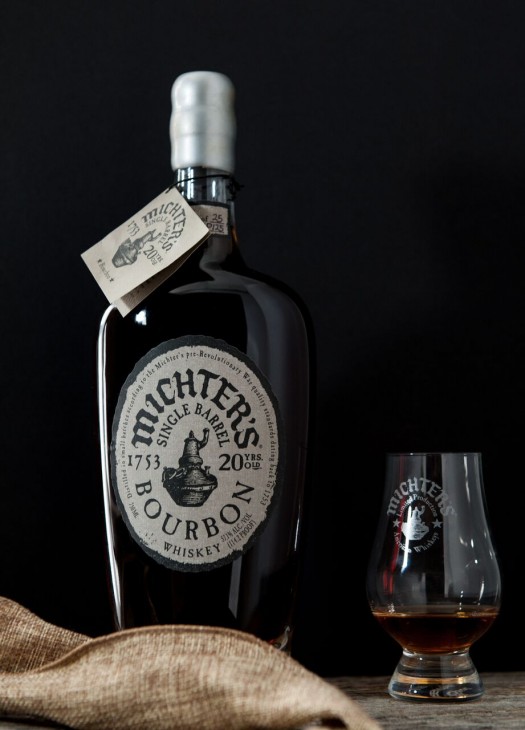 Michter's 10 Year Old Single Barrel Bourbon is an amply enchanting whiskey. What then if we double up and go for 20? Michter's 20 Year Old is one of those ultra-cult whiskeys right up there with Pappy Van Winkle, with a list price of $600. $1200 is the best you're likely to do, and $1800 isn't uncommon.
For a bottle, yes. Not a barrel.
With prices like that, Michter's 20 better be damn good whiskey, and I'm happy to report that it is.
While Michter's 10 Year Old is a soft and well-crafted but largely traditional whiskey, Michter's 20 pushes its flavor profile to some serious extremes. Initially a blazer — this has 10% more alcohol than the 10 Year Old — the nose is fiery with oak and spice, and the body is punchy with Red Hots and a huge punch of barrel char. A small splash of water does wonders here to coax out more nuance, and hey, it'll make the previous liquid go farther.
Brought down in proof a bit, the bourbon is quite a delight. Bold butterscotch hits first, then more of that previously-mentioned cinnamon takes hold. There's lots of vanilla and caramel here; the whiskey just oozes from start to finish with dark, dark sugar notes — with only a hint of the fruit that's a core part of the Michter's 10 DNA. Over time, some dried and macerated fruit notes emerge, particularly apricot. Finally, some interesting amaro notes bring up the rear, offering a gentle root beer character that takes things out on an exotic, and quite racy, note — the strongest indication that Michter's is pushing things just a bit too far with the barrel regime and some oddball flavors are at risk of developing.
While Michter's 10 is a fruity, nutty, confectionary delight, Michter's 20 is a wholly different animal, and the bourbon enthusiast is well served by sampling them side by side (though, that said, there is no suggestion that these whiskies were sourced from the same still or even the same distillery).
To be sure, Michter's 20 is no Pappy 23, but finding a bourbon of this age that still has this much going on isn't an easy feat. With its 20 Year Old Single Barrel, Michter's is flying awfully close to the sun, but it still hangs on to its wings.
114.2 proof. Reviewed: Barrel #15Z738. Bottle 193 of 267.