by Margarett Waterbury – April 12th, 2016
You are here: Home / Bourbon / Reviews / Whiskey Review: Michter's 10 Year Old Single Barrel Bourbon
Whiskey Review: Michter's 10 Year Old Single Barrel Bourbon
by Margarett Waterbury – April 12th, 2016
102
SHARES
Michter's 10 Year Old
Editor's Note: This whiskey was provided to us a free sample to review by the party behind it. The Whiskey Wash, while appreciative of this, did keep full independent editorial control over this article.
Also, we've just launched sign ups for our upcoming The Whiskey Wash newsletter. Click here to join our list and stay informed!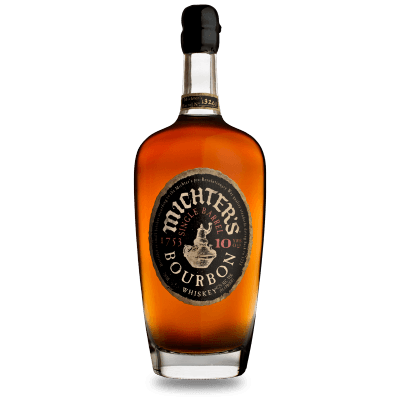 The Michter's brand name is a historic one. Produced during the middle of the 20th century at the historic Bomberger's Distillery in Schaefferstown, Pennsylvania, (where whiskey under many different names had been made since before the Revolutionary War) Michter's was a popular brand of sour mash whiskey invented by Charles Everett Beam.
Later discontinued due to bankruptcy in the late 1980s, the Michter's name took on a new mystique as a lost piece of American whiskey history.
Walk into a liquor store today, however, and you'll be forgiven for thinking that bankruptcy never happened. Not long ago, the Michter's name was revived by two entrepreneurs who acquired the rights to the brand's trademarks. Instead of Pennsylvania, however, the new Michter's set up shop in Kentucky, citing a desire to be near "the best whiskey talent and resources available."
Michter's first offerings hit the market in 2004, a portfolio of bourbons and ryes sourced from undisclosed distilleries. Now, Michter's is transitioning from a non-distiller producer to a true distillery, very much in the Kentucky mold. Its new plant in Shivley, Kentucky, began producing spirit on a brand-new Vendome still in 2015, and Michter's is also in the process of remodeling a historic building in the heart of downtown Louisville to serve as a tasting room and visitor's center. They're also the newest Heritage Member of the Kentucky Distiller's Association, putting them in company with greats like Wild Turkey and Brown-Forman.
Each year, Michter's releases a 10-year-old single barrel bourbon release in very limited quantities. Few details about the spirit are available. The source of the distillate is unknown, as is it mash bill. On its website, Michter's does describe their aging regime, which includes a low barrel entry strength of 103 proof as well as the use of heat cycling in their warehouse. They also chill filter their whiskies, using "different filtration mediums and techniques best suited to each of our individual whiskey offerings," although the specifics of those techniques are not addressed.
In the absence of information, Michter's 10 Year Old Single Barrel Bourbon must be judged solely on its flavor – a good strategic decision by Michter's, since this is an unequivocally delicious mystery whiskey.
Tasting Notes:
Vital Stats: 94.4 proof, 10 years old, retail price set by Michter's at $120, but selling for $300+ on the secondary market.
Appearance: Classic medium caramel
Nose: Sweet and grainy: corn bread slathered in honey, johnnycakes with cherry jam. Fizzy cream soda mixed with a bit of varnish segues into warm leather and a hint of summer-warmed dry grass, which is amplified with water.
Palate: This is a very well-integrated whiskey with a lovely balance between creamy and spicy. There's a full, rich, toffee sweetness throughout, balancing the earthy, humus-like bass notes in the mid palate. The finish is also very reminiscent of soda pop (root beer float? Cherry Coke?), almost giving the impression of carbonation, with a lingering muted spiciness. It's extremely thick and coating. Water cuts that mouth feel, to its detriment.
Conclusion:
Michter's 10 Year Single Barrel reminds me of the kind of restaurant you recommend to somebody you don't know very well who's looking for a nice meal. It's inarguably delicious, and free of any potentially divisive characteristics. There's no challenge here, just pleasure, and while it may not inspire the kind of devotion that comes from loving something others don't (see: Islay single malt, cult film classics), it's extremely enjoyable all the same.
It's on the spendy side for what it is, and it's pretty hard to lay your hands on, but if you're in need of a gift for your father-in-law, this is a home run.