Recently, Michter's announced the retirement of Master Distiller Willie Pratt (along with a $5,000 farewell gift) making way for one of Kentucky's first females to embrace the prestigious position. Pamela Heilmann put her first-ever stamp of approval on the well-matured whiskey in this review, bringing forth in to the world one of only two expressions of this 10-year Rye released in the past four years. "I think this Michter's 10 Year Rye is absolutely outstanding," said Heilmann, "I am determined to release something when it is just right." Her commitment to quality over quantity certainly echoes Michter's ethos, and creates a comfortable feeling around the Master Distiller switchover.
Past releases have seen an emphasis put on Pratt's notorious 'it's ready when it's ready' attitude, skipping years to ensure the proper aging and finishing creates a whiskey worthy of the hefty price tag and whiskey world esteem. With Heilmann's adoption of these values, and her years of experience at Michter's as well as time served running Booker Noe Distillery (and serving on many industry boards), the future for this iconic beverage maker seems secure. However, I'm sure her initial report card will be graded on the success of this particular release.
Fear not, loyal Michter's drinkers. The juice in this bottle is great and sits well in the pantheon of their high-end releases. The struggle for most will be coming to terms with its price tag.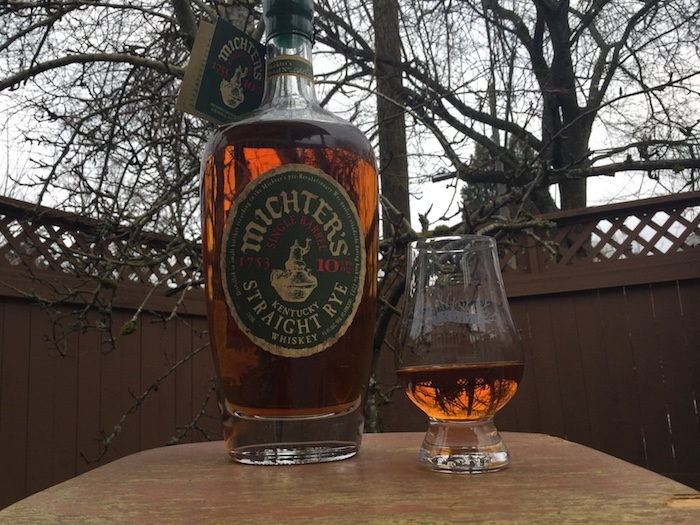 Tasting Notes: Michter's 10 Year Single Barrel Kentucky Straight Rye Whiskey (2017 Release)
Vital Stats: Single barrel release, 2017. 92.8 Proof. Made from "High quality" American Rye and aged for 10 years in fire-charred new American oak. Barrel No. 17A34. $150 for a 750ml.
Appearance: Crystal-clear pour of robust amber liquid with a medium viscosity. Complex, webby legs coat the glass interior. Bright and bouncy, this whiskey sees almost no separation at the edges and possesses a near pinkness under natural light. Remarkable in its beauty.
Nose: First aromas inhaled are huge, a virtual arena in which the earthy, spice character from the rye battles the dessert-like scents from the extended barrel-aging. There is a citrusy note present from the rye, which when crossed with the oak, emerges as candied orange peel and freshly-baked angel's food cake. The subtle smoky spiciness reads more like quince or bruleed banana peel than black pepper, and works well with the overall more rounded, less sharp skew that this rye whiskey presents.
Palate: Whereas the nose is inviting and silky smooth, the first taste clobbers you both with a dry woodiness and a complexity of layered alcohol and earth tones molded in to a hefty, luxurious dram with a thick-but-not-sweet mouthfeel. Deeper analysis pulls out a tannic note of singed hay, a slight ester profile with hints of tropical fruit, and a wood-laced finish in each sip that can best be described as beefy and burly.
When all this combines with a perfectly subdued (yet not) alcohol burn, the final product comes across as quite the expert's rye. Amplified volume on expected flavors yet striving for all this intensity in balance. It's happy-go-lucky exploitation of rye's fruitier side may be the only slight out-of-whack note.